Reverse osmosis systems for purifying water have been around since 1977. At first, these were large volume industrial systems used by some municipal water purification plants. For a while now, domestic reverse osmosis units have become popular in our homes. They provide clean, healthy, great tasting water.
A reverse osmosis system has anything from 1 to 5 stages. Of course, a 5 stage reverse osmosis system is the best. They provide the greatest level of purification and some 5 stage reverse osmosis filter systems add essential minerals back into the water during the fifth stage.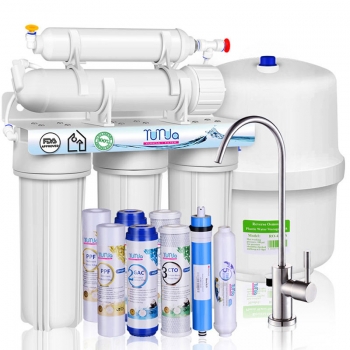 To help you understand these water filters better, this article is going to discuss how a 5 stage reverse osmosis water filtration system works. All reverse osmosis filtration systems work on the same basic principles, it's just the number of filtration levels that increase. So you were wondering what the difference is between 3, 4 and 5 stage reverse osmosis is, this is your answer. A 5 stage reverse osmosis system, uses 5 different types of filtration, a 4 stage system will use 4 and so on.
All reverse osmosis systems have common components. These would be a water inlet, filters, a pressurized storage tank, a drain (usually with an automatic shutoff valve), flow controller, check valve and finally, an outlet (usually a dedicated faucet at the kitchen sink).
Let's look at how all these components come together in a 5 stage reverse osmosis filtration system and how they all work.
Reverse Osmosis Stage 1
A cold water line valve is fitted to the water supply in your home and a tube directs the cold water to the reverse osmosis system. The first stage is a pre-filter that removes the solid materials like silt, rust, and dirt from the water. This first stage prevents the other RO filters from becoming clogged with larger debris.
Reverse Osmosis Stage 2 & 3
It's during the second and third stages that the true reverse osmosis begins. The reverse osmosis membrane and carbon filters make up these stages. These filters remove chlorine from the water. By doing this in 2 stages, the system removes the chlorine more effectively. During these two stages, elements that may affect the color of the water are also removed. By this time, the water is clear and tastes just about pure.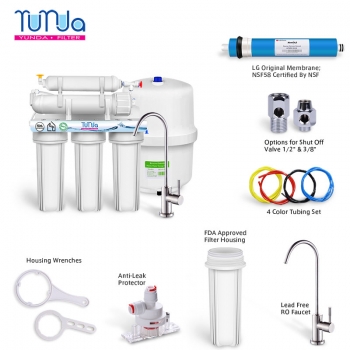 Reverse Osmosis Stage 4
Apart from chlorine, there are many other chemicals that can affect our health and the taste of the water. These include fluoride, lead, and chromium. During the fourth stage of the reverse osmosis process, membranes remove these other elements from the water.
Reverse Osmosis Stage 5
The final stage of a 5 stage reverse osmosis filtration system is called post-filtration. As the water leaves the tank, on its way to the faucet, it passes through a filtration membrane that collects any particles that may have accumulated inside the tank. Some 5 stage RO systems use a process known as remineralization which replaces essential minerals that are removed during the previous stages. These essential minerals are those that the body needs as part of its daily nutrition and this makes the water more beneficial to our health.