Perhaps a local city water quality report is more important before choosing the high quality water filter you think. This article will help you understand how to interpret what your report tells you.
In fact, consumer standards are actually more stringent for the quality and safety of tap water than for bottled water. How do you know if the water quality in your local city is up to standard? The best way to find out about your local water is to read your water quality report, a document that your water utility is required by federal law to provide to you every year telling you if your water has any contamination. Now, we will show you how to understand the data on the water quality report.
Beyond basic safety, many people prefer to add a water filter to remove minerals and particulates, which may affect the taste. We'll walk you through the different types of tap water filters and help you pick the best one for your needs.
What is the water quality report?
Annual water quality reports, also called consumer confidence reports, are intended to help consumers make informed choices about their drinking water. They let you know what contaminants, if any, are in your drinking water and how these contaminants may affect your health. They list all the regulated toxins that were detected in your water over the preceding calendar year. On this basis, you can choose the right water filter for your family.
What Does a Water Quality Report Tell You?
Every water quality report must contain:
The source of the drinking water, be it a river, lake, groundwater aquifer or some other body of water;
A brief summary of the state's source water assessment, which measures how susceptible the source water is to contamination, and how to get a copy of the complete assessment;
The U.S. Environmental Protection Agency (EPA) regulations and health goals for drinking water contaminants;
A list of all detected regulated contaminants and their levels;
Potential health effects of any contaminant detected at a level that violates the EPA's health standard;
An educational statement for people with weakened immune systems about cryptosporidium and other microbial contaminants;
Contact information for the water system and the EPA's Safe Drinking Water Hotline.
Worried about lead? Make sure you get the right water filter.
If your water quality report says lead, then you need to add a water filter that removes lead. Fortunately, a water filter that is either NSF/ANSI Standard 53 or NSF/ANSI Standard 58 certified can reduce lead in your drinking water. These certifications are established by NSF International, a public health organization that develops standards and providing certifications with the mission to improve global human health.
These certified filters come in different shapes and sizes. Certification requires that manufacturers state how much water the filter can treat before it must be changed. Some filters even include a device that will let you know when the filter needs to be changed. When changing filter cartridges, it's important to use a certified cartridge. A non-certified cartridge may not effectively filter lead from the drinking water.
What to Consider When Buying a Water Filter
What impurities do you want to remove from your water? Are you concerned about health risks, or simply unappetizing tastes and odors? Different filters are designed to remove various impurities, so be sure that the filter you buy will do the job.
Once you have read your water quality report, determine what, if anything, you would like to filter out of your water. Depending on the water quality where you live, you may decide that you do not need to filter your water at all.
Consider Which Filter Is Best for You
Each product has its own pros and cons. Individual products may use multiple technologies and are often marketed as two (or more) stage filters. Carafe, faucet-mounted and countertop filters typically use a combination of adsorption and ion exchange resins, while plumbed-in systems may use those technologies in addition to reverse osmosis.
Filters also come in a wide range of prices. Most carafes and faucet-mounted filters cost between $20 and $50, while countertop, under-sink and whole-house filters can range from $50 to $900.
When considering the price of a water filter, remember that the total cost includes your initial purchase price as well as any installation, maintenance or replacement fees. Filter parts need to be changed periodically to prevent clogging, so be sure to consider how much replacement parts cost, as well as the manufacturer's estimated life span for the product.
Also consider the amount of water you use. Some filter types have larger water capacities than others. Carafes, for example, can filter a few cups or gallons at a time, while faucet-mounted or under-sink filters work directly through a tap.
Most importantly, make sure that the individual product reduces the specific contaminants that you want to remove from your water. Generally, products will include claims on their packaging or advertising regarding which contaminants they reduce and the percentage reduction rate.
Recommend a water purifier for you - RO System that can effectively remove almost all impurities in the water. With the most advanced water filtration technology available, the RO System can deliver clean and healthy water to your home without restrictions. What you need to know is that you need to replace the water filter regularly. Generally, you need to change every 6 months. The heart water filter of the RO System: the ro membrane needs to be replaced once every two years. You can also choose the right water filter according to your city water quality report. Click on the image below to view the details of the RO system.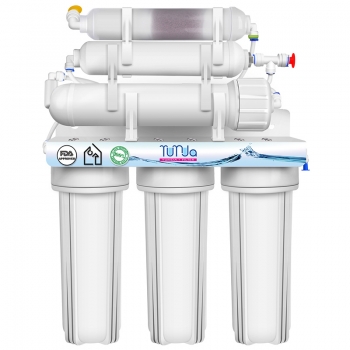 Of course, you can also consult online which water filter is suitable for your family. Now, get a copy of the water quality report of your city!