What is fluoride?
Fluorides are compounds that combine the element fluorine with another substance, usually a metal. Examples include sodium fluoride, stannous fluoride, and fluoride monofluorophosphate (MFP fluoride).
Some fluorides occur naturally in soil, air, or water, although the levels of fluoride can vary widely. Just about all water has some fluoride. Fluoride is also found in plant and animal food sources.
Once inside the body, fluorides are absorbed into the blood through the digestive tract. They travel through blood and tend to collect in areas high in calcium, such as the bones and teeth.
Why you need remove fluoride from water?
Fluoride is known to have toxic properties even in low dosages. But once added to our water supply systems, there is no way of controlling who ingests how much of it. That can become a serious problem especially for the majority of kids that already exceed the recommendations for daily fluoride intake by nutrition alone.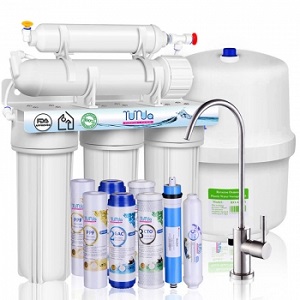 As a growing part of the population wants to opt out of water fluoridation, the demand for filter systems that can remove fluoride from water increases.
Reverse osmosis – It's the most commonly used method of water filtration that utilizes a semipermeable membrane to filter out up to 99% of all contaminants. → click to see products
Strong base anion exchange – Filter systems based on this technology are rare to find and as far as we can tell, they are only available for industry use but not for your home.
Distillation – Your last option are distillers that, strictly speaking, don't belong to the group of water filters. However, they offer an effective way of removing fluoride from water, which is why we don't want you to miss out on them.