The process of removing contaminants is through catalytic reduction or adsorption. Adsorption is a process of negatively charged contaminant ions being attracted to the positively charged activated carbon. Residual disinfectants such as chlorine and chloramines are removed by catalytic reduction, and organic compounds are removed by adsorption. Hydrogen sulfide also can be reduced by catalytic reduction. Acidity and the temperature of the water can be important because greater acidity and lower water temperatures tend to improve the performance of activated charcoal.
Activated carbon water filter:
Removes organics that can affect taste, odor and color
Reduces chlorine, trihalomethanes (THM), pesticides, industrial solvents (halogenated hydrocarbons), polychlorinated biphenyls (PCBs), polycyclic aromatic hydrocarbons (PAHs), radon gases (unknown levels)
Does not remove or reduce microbes, sodium, nitrates, fluoride, hardness
Caution About Bacteria When Using Activated-carbon Filters
When your AC filter becomes loaded with organic contaminants or the filter is not used for a more than five days, it can become a food source for bacteria. While experts don't know if the bacteria are harmful, some manufacturers have added silver to the activated charcoal to reduce bacterial growth.
Although the Environmental Protection Agency (EPA) registers all carbon filters with added silver as bacteriostatic, it does not endorse these methods for reducing bacterial levels in the filter or the water. The Federal Insecticide, Fungicide and Rodenticide Act's required registration indicates the filter does not release excessive amounts of silver. Furthermore, a bacteriostatic carbon filter is not adequate to treat water that is microbially unsafe.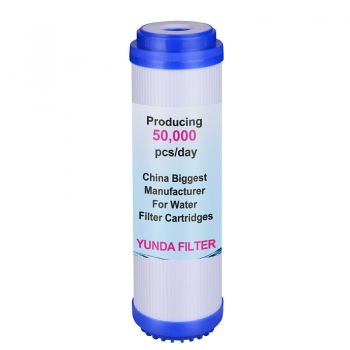 Activated Carbon Filtration Equipment
AC filters can be placed in four categories: 1) pour-through, 2) faucet-mounted, 3) high-volume and 4) whole-house.
Pour-through AC filters are the simplest. They work like a drip coffee maker. Water is poured in the top and travels by gravity through a filter to the bottom. They are quite slow and handle only small volumes of water.
Faucet-mounted AC filters are small units attached at the end of a standard kitchen faucet. They are convenient to use, but because of their size, they require frequent replacement. Some units have bypass valves, so only water for cooking and drinking is filtered.
High-volume AC filters contain much more AC than either the pour-through or faucet-mounted models. High-volume units generally are installed under the sink on the cold-water line. Some units are installed with a bypass to separate cooking and drinking water from other uses. A high-volume unit may be installed at the point of entry to the house if all water needs to be treated. When choosing an AC filter, remember the one with a clear holder allows you to see the filter and monitor its usefulness.
Whole-house refers to the placement of the filter rather than the filter type. However, only certain types of filters are suitable for use as whole-house filters due to the volume of water being treated and consequently the frequency with which the filtering media has to be changed or regenerated (depending on the filter type). The most common whole-house filters are sediment or AC filters.
As you shop for filters, look at the manufacturers' product description or catalog categories because these will indicate which filters are suitable or intended specifically for use as whole-house filters.