You will find that the PP Sediment filter is often used as the first stage of the water purifier. Do you know why? PP Sediment filter: PP Sediment filter is made of non-toxic and odorless polypropylene, heated, melted, spun, drawn, and finally made into a cylindrical filter; it also known as PP spray filter.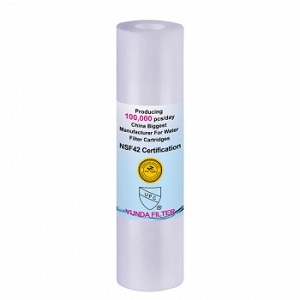 Why is the PP Sediment Filter Used as the First Stage?
It can Effectively Remove Particulate Impurities in Water
The water flows from the outside of the PP sediment filter to the inside, and the water is filtered. The closer to the inner layer of the filter, the smaller the pore size and the higher the precision of filtration. The particulate impurities are blocked when passing through the PP precipitation filter channel, and even particles smaller than the pores can be blocked, thus removing various particulate impurities in the filtered liquid.
Multi-layer Deep Structure, Large Amount of Dirt
The outer layer of the PP sediment filter has a large pore size, while the inner layer has a small pore size, the outer layer is loose, and the inner layer is compact, and constitutes a multi-layer gradient structure with high inner layer precision and small outer layer precision. Each layer of this multi-layer structure can intercept and store impurities in the water, and the amount of dirt is large.
Large Filtering Traffic
The raw material polypropylene of the PP sediment filter cartridge is entangled by self-adhesion to form a three-dimensional labyrinth microporous structure, which has a larger surface area and a higher porosity than the conventional fabric fiber distribution.
The large surface area and a large number of small holes allow the water to quickly pass through the PP precipitation filter element, so that the height of the inner and outer water does not differ too much, so not only the filtration flow rate is large, but also the pressure difference is small.
Free of Chemical Binders, More Hygienic and Safe
The polypropylene is melt-sprayed and drawn, so that the polypropylene fibers are entangled by self-adhesive to form PP sediment filter cartridges of different shapes and sizes.
The many advantages of PP sediment cartridges have led them to be used as the first stage filter for water purifiers. PP sediment filter cartridges are an important part of the water purifier, they can also effectively remove particulate pollutants in the water. You can find the PP sediment filter on the website and buy it.