Standard Whole House Water Filter
Installing a whole house water filter can solve a wide range of problems affecting your water quality, taste, or appearance of the water. Whole house filtration systems remove contaminants from your water through a filter connected to your water line. All of the water coming into your house will pass through the filter before being routed to faucets, toilets and appliances in the house. The types of contaminants that you will need to remove or treat your water with will vary based on whether you receive water from a municipal system, well, or spring. Generally, those on city water are recommended to use a whole house carbon filtration system for general multi-purpose whole house purification. Carbon filtration is effective in removing chlorine, chloramines, odor and VOCs to provide chemical free water throughout your entire home. If you have specific water contaminant issues such as iron, fluoride, sediment, or bacteria, you will you need a whole house system catered to removing that particular contaminant. For example, if you have orange and brown iron staining around the fixtures in your home, you will need a whole house iron filter to remove the staining throughout the home. A whole house softener does not work as a filter, but works to soften hard water. A whole house softener is recommended if you require soft water for a scale free environment and spotless glassware. A softener can be combined with any whole house filtration system and work together to provide clean and soft water throughout every faucet.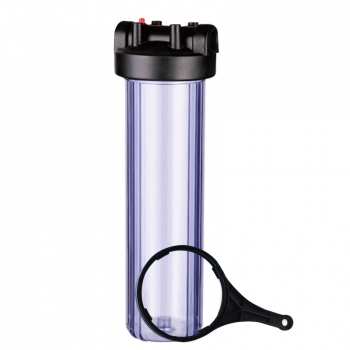 Heavy Duty Whole House Water Filter
There are two main types of whole house systems. The first type of system is a heavy duty filtration system. This is the highest performing contaminant removal system because of the large amounts of filter media used. The media is placed in a tank about 50" tall and provides you with specific contaminant protection for 5-10 years before the media needs to be replaced. A second type of system is a standard capacity water cartridge. These water filter cartridges are placed inside durable filter housings to treat the contaminated water throughout the entire home. The filters are typically 4.5" Diameter by 10" or 20" Height and are replaced annually. These standard capacity systems are more affordable, but do require a bit more maintenance. To learn more about our heavy duty filtration systems and standard whole house filter systems view a variety of our whole house systems.