The feed water flows to the more concentrated side of the RO membrane when pressure is applied. The pressure forces the water through the semipermeable membrane. The atoms of the contaminants and the membrane contain ions that have the same charge. Since the charge of the atoms of the contaminants and the membrane are the same, they repel each other. This is what stops the contaminants from reaching the other side of the membrane.
Stages Of An RO System
Reverse osmosis is only one of the stages of an RO system. RO systems are made up of 3 to 5 stages of filtration. Water is always treated in an RO system with reverse osmosis in conjunction with pre and post filters. Typically, an RO system contains one or more of the following filters.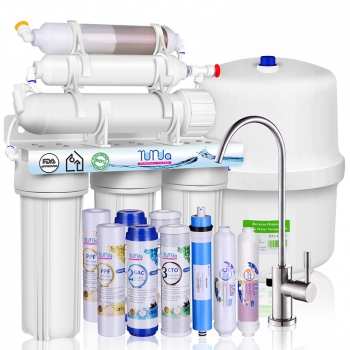 Sediment Filter – This filter reduces particles like dirt, dust, and rust.
Carbon Filter – This filter reduces volatile organic compounds (VOCs), chlorine, and other contaminants that give the water a bad taste or odor.
RO Membrane – This is the heart of the system. It removes up to 98% of total dissolved solids (TDS)
When water enters an RO system, it goes through the prefilters first. The prefilters catch sediment, chlorine, and particles that cause bad taste and odors. The prefilters stop these contaminants from reaching and clogging the RO membrane. After the water flows through the prefilters it finally goes through the RO process.
Next, the water flows into the storage tank, where it is held until it's needed. RO systems produce water slowly. If you were to turn your RO faucet on to fill a glass of water at the RO membrane production rate, you would wait about 5 minutes before your glass was filled. A few ounces of water, about 2 or 3 ounces, are produced every minute. This is why a storage tank is necessary. The RO system will continue to process water until the storage tank is full and when you turn on your RO faucet, water comes out of the storage tank and goes through another postfilter to polish the water before it goes to the RO faucet.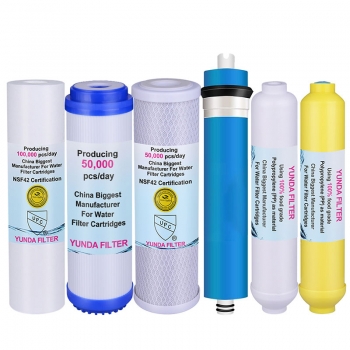 Does a Reverse Osmosis System Waste Water
A small amount of water goes to the drain when carrying rejected impurities. The wastewater is needed to carry the rejected impurities to the drain. If you want to waste the least amount of water as possible then you need to add a permeate pump to your system. Permeate pumps reduce the rejected water by 75%. Most RO systems come with a shut of device that stops the wastewater from going down the drain when the storage tank is full.
Many people with RO systems use the water that goes to the drain for landscaping. The drain water will have a higher TDS reading but it is safe for your lawn and garden.