There's a much better option for ensuring that the water you and your family drink is as safe as it can be: a home water filter.
How Safe Is Public Water?
Under the Safe Water Drinking Act, the US Environmental Protection Agency (EPA) is responsible for setting national drinking water standards. The EPA regulates over 80 contaminants—including arsenic, e-coli, cryptosporidia, chlorine, and lead—that may be found in drinking water from public water systems. While the EPA says that 90 percent of US public water systems meet its standards, you may want to use a water filter to further ensure your water's safety.
A 2003 study by the nonprofit Natural Resources Defense Council (NRDC) found that due to a combination of pollution and deteriorating equipment and pipes, the public water supplies in 19 of America's largest cities delivered drinking water that contained contaminant levels exceeding EPA limits (either legal limits or unenforceable suggested limits) and may pose health risks to some residents. So even though it may test fine at its source, public water may still pick up contaminants on the way to your house.
Contaminants that snuck into city water supplies studied by the NRDC include rocket fuel, arsenic, lead, fecal waste, and chemical by-products created during water treatment.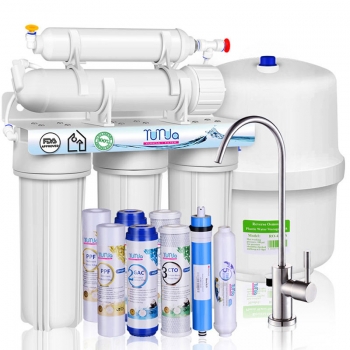 Step One: Assess Your Tap Water
There isn't a one-type-fits-all kind of home water filter: not every filter type will eliminate every contaminant. You'll save money and ensure that you're targeting the contaminants of concern in your area by doing a little research up front.
"Most people purchase the wrong home water filter because they skip this very important step, and then they've wasted money and resources on a system that isn't making their water any safer," says James P. McMahon, owner of Sweetwater, LLC, which provides consulting and products for people wanting to purify their air or water.
To start, check your water utility's "Consumer Confidence Report," the report details where your drinking water comes from, what contaminants have been found in it, and how contaminant levels compare to national standards.
While your report can tell you what's going on with the water in your area, only a test of the water coming out of your tap will tell you what you and your family are drinking for sure.
If your water comes from a private well, so you should have your water tested annually in late spring (when pesticide runoff will be at its worst), and anytime you notice a change in the color or taste of your water.
Step Two: Find the Best Type
Home Water filters come in a dizzying variety, from plastic pitcher filters and built-in refrigerator filters, to faucet and under-the-sink filters, to whole-house models that combine a variety of media types and treat all of the water in your house. What type you want depends on your needs.
The best type of filter to remove chlorine and its byproducts is a combination carbon/KDF adsorption filter (which is a different chemical process than absorption) , which range from shower and faucet filters to sink and whole-house filters. A regular carbon filter won't remove chloramine, so look for a catalytic carbon filter instead.
If you only have one or two contaminants, a smaller unit, such as a countertop or under-the-sink filter, may meet your needs. To find a filter certified to remove the contaminants you're most concerned about, visit the NSF's online database.
Finally, if you find your water has serious safety issues, consider a multi-stage filter that can tackle a variety of contaminants. Many combine a variety of home water filter types.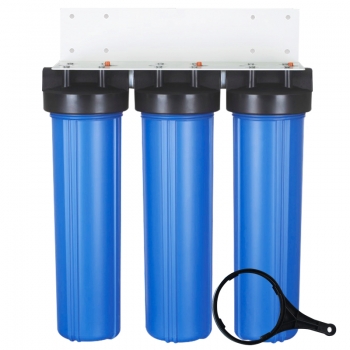 Step Three: Look at the Labels
Some experts recommend looking for a filter certified by NSF International, a nonprofit organization that conducts safety testing for the food and water industries. NSF tests and certifies water filters to ensure that they both meet NSF safety standards and are effective at removing contaminants as claimed by the manufacturer. Underwriters Laboratories and the Water Quality Association also offer similar certification, based on NSF standards.
NSF has different certifications, so when you read the label, first make sure it says the filter will remove the contaminants you're most concerned about. A filter certified by NSF to remove chlorine isn't going to be helpful if you need it to remove nitrates. Then, look for the NSF seal, Underwriters Laboratories' "UL Water Quality" mark, or the Water Quality Association Gold Seal for added assurance that your filter will actually do what the box claims.