You need to carefully consider whether to install the home water filter. This is very expensive if you purchase and install a home water filter as an experience. You spend more than just some money, and even include the health of you and your family. Before installing home water filter, you need to understand the 4 advantages of water filtration.
1. Solve the problem of secondary water pollution
You can't live without tap water every day. Is the tap water as clean as it looks? Maybe it's not what you think is different. There is no doubt that the water in the waterworks is clean. The only drawback is that it contains chlorine. Water plants use chlorine to kill bacteria in the water. Chlorine inevitably exists in tap water. The harm of chlorine may be more serious than you think. One of the best ways to remove chlorine is to install a home water filter. The activated carbon water filter in the home water filter can effectively remove the chlorine in the water. Perhaps another matter is more worthy of your attention. The tap water will be contaminated through the pipeline, and the tap water that reaches your home contains pollutants that you can't see. Installing a home water filter allows you to say goodbye to secondary pollution.
2. Replace expensive bottled water
Maybe you are still buying expensive bottled water, which is a waste of water. Bottled water is not only expensive, but you need to drink it in a short time, because they can easily breed bacteria.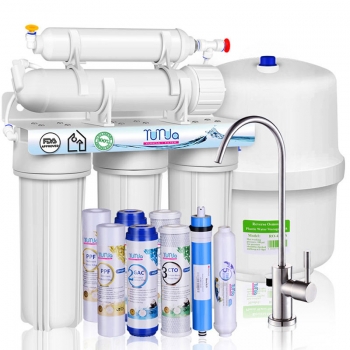 3. Tap water meets the standard of direct drinking
One advantage of installing a home water filter is that you can drink tap water directly, which is a convenient thing.
4. Low cost
You only need to spend a little money to buy a home water filter, you can drink clean water for unlimited times, and no longer have to worry about buying expensive bottled water.