Refrigerator Water Filter Compatible Models
| | |
| --- | --- |
| Refrigerator | Water Filter Models |
| GE | GSWF, GSWF3PK, GSWFDS, AP3418061 |
| KENMORE | 469914, 9914, 46-9914 |
| SWIFT GREEN | SGF-G22 |
| WATER SENTINEL | WSG-2 |
| SUPCO | WF298 |
| AQUA FRESH | WF282 |
| CULLIGAN | RF-G3A |
Basic Parameters
| | |
| --- | --- |
| Model NO | RWF1500A |
| Unit/Case | 40Units |
| Case Weight | 28.6pounds |
| Case Dimension | 19.3" x 12.4" x 9.4" |
| Cases/Pallet | 30Cases (Based on 39.4"x39.4", or 43.3"x43.3" pallet) |
| Pallet Weight | 886.6pounds |
| Pallet Dimension | 39.4"x 39.4"x 52.4" |
| Individual Filter Dimension | OD: 2.1" Length: 8.5" |
| Individual Unit Weight With Box | 10.8oz |
| Individual Unit Box Dimension | 2.3" x 2.3" x 8.7" |
| OPERATING TEMP | 34-100℉ |
| OPERATING PRESSURE | 30-120psi |
| FLOW RATE | 0.5-1 GPM |
| FILTRATION LIFE: | 6 months/1500G(Depends on water quality and level of contaminants) |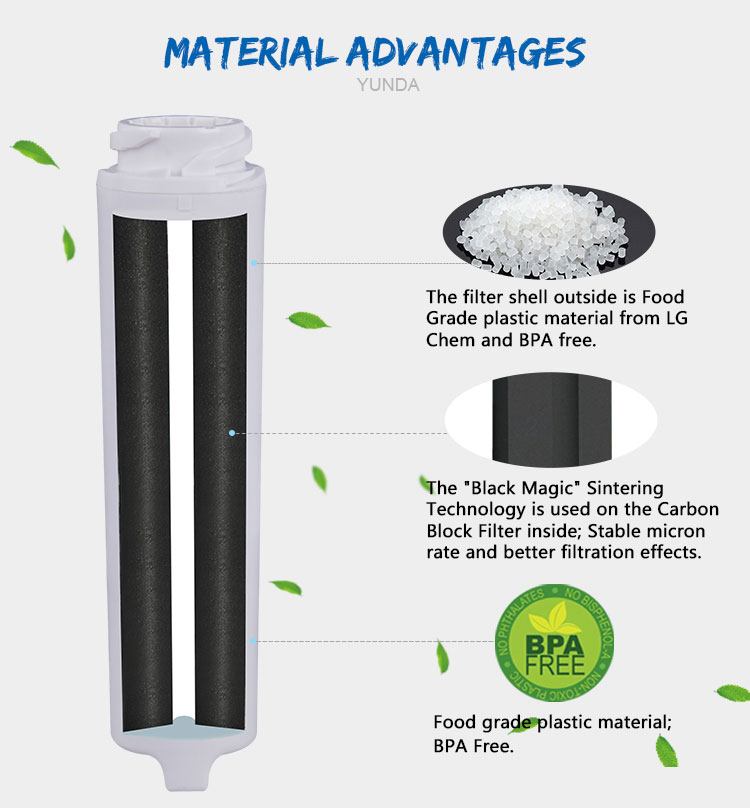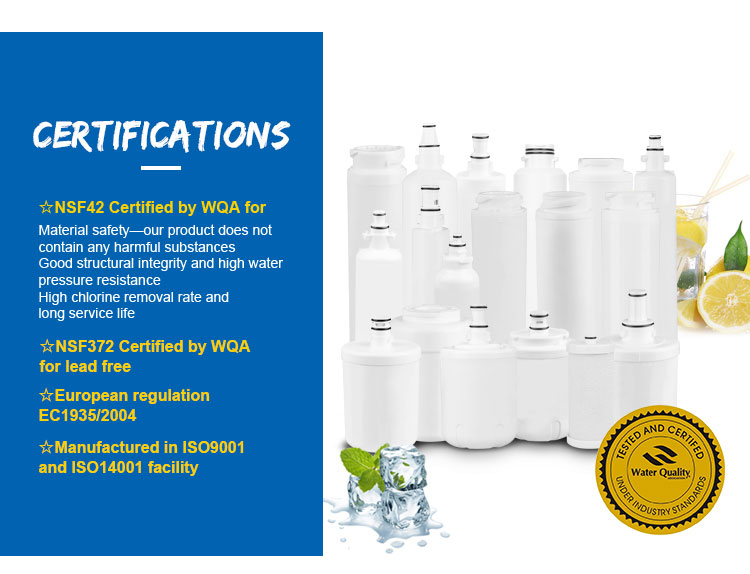 Certifications
● NSF42 Certified by WQA.
● Remove Chlorine, color, odor, Voc, THM's, etc. Chlorine Reduction Rate tested by WQA is 99.06%
● Remove Pesticides and Herbicides. Tested by the third-party lab according to NSF53.
√ Lindane Reduction Rate>95%
√ Atrazine Reduction Rate>85%
√ 2.4-D Reduction Rate >86%
√ Toxaphene Reduction Rate>90%
● Heavy Metal Reduction tested by SGS according to NSF53 standard.
√ Arsenic Reduction Rate > 87.8%
√ Mercury Reduction Rate> 99%
√ Cadmium Reduction Rate> 97.2
√ Lead Reduction Rate>99%
√ Copper Reduction Rate>96.1
√ Chromium Reduction rate>96.9%
● Particulates (Class I) Reduction Rate
√ >99.0% Tested by the third-party lab according to NSF53 standard.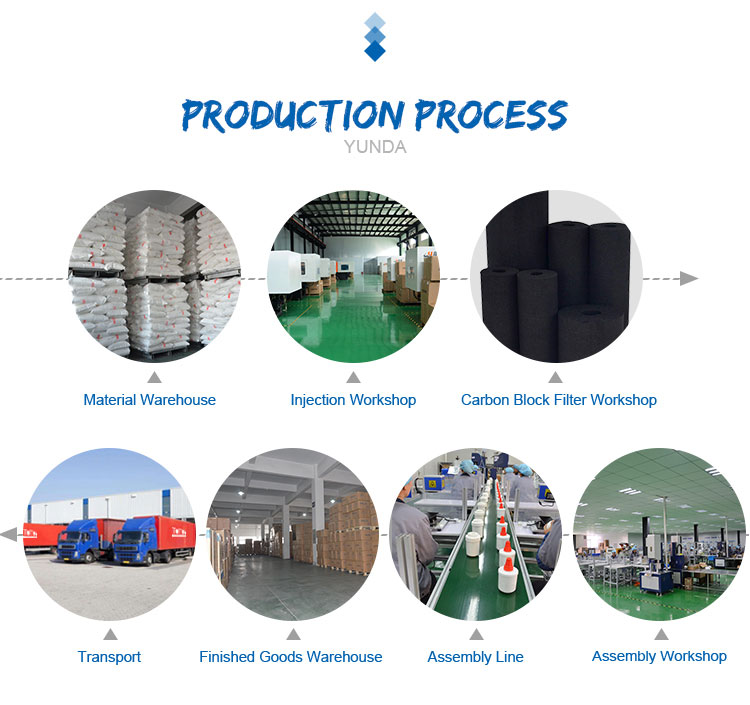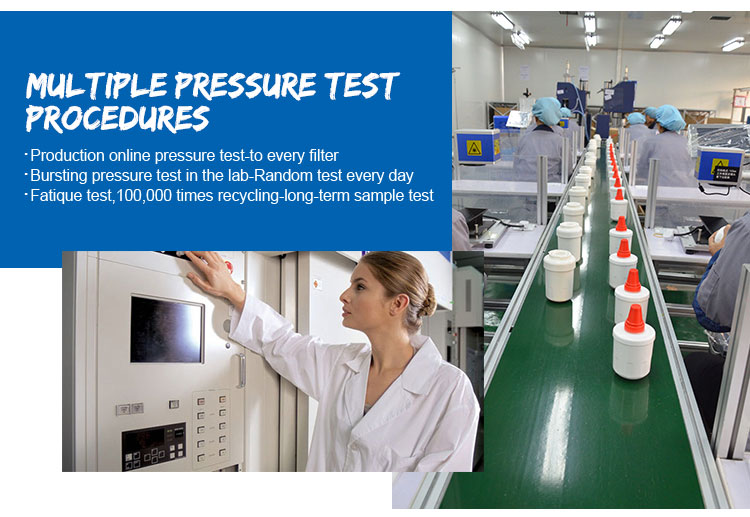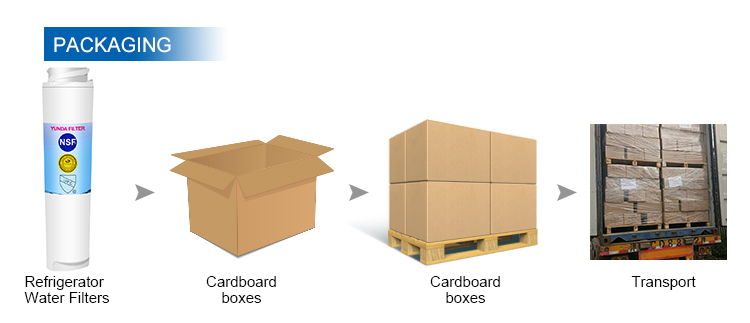 Installation Instruction
1. On models without a replacement indicator light, apply the month sticker to the new cartridge and mark your calendar to remind you to replace the filter after six months.
2. Open cartridge cover by pushing in where indicated.
3. Remove old filter cartridge by slowly rotating to the left (counterclockwise).
4. Position new cartridge inside the cartridge holder and slowly rotate the cartridge to the right (clockwise) until it stops. The cartridge will rotate about 1/4 turn. When installed correctly, the grip blade on the end of the cartridge should be positioned vertically for top-freezer models and horizontally for bottom freezer models. Do not over tighten.
5. Close cartridge cover.
6. Reset filter change indicator if your refrigerator has one.
7. Flush 3-4 gallons (approximately 6-8 minutes) through the filter before use. This will clear the system and prevent sputtering.