Whole house water purification is a systematic water purification solution to meet the family's "drinking, eating, washing and bathing" all aspects of water demand, and to protect and extend the life of wading appliances in the whole house.
From the functional point of view, whole house water purification includes water purification and water softening. The purpose of water purification is to achieve the filtration and purification of whole house domestic water and terminal drinking water to protect family drinking water health. Water softening mainly improves the quality of life.
In terms of water purification equipment, a complete whole-house water purification system includes a pre-filter, a central water purifier, a water softener, and a direct drinking water purifier at the end.
Front whole house water filter
Most of our domestic water comes from municipal water supply. In the process of flowing through, due to the aging of pipelines, it will be accompanied by secondary pollution such as sand, rust, and algae, which will make the tap water turbid and shorten the service life of wading appliances.
The pre-filter can effectively intercept large particles such as sand, rust, and algae in the water, protect the service life of pipelines and other wading appliances, and solve the pollution caused by various suspended solids, sediment and other large particles from the source, and There is no need to replace the filter element, just regular cleaning.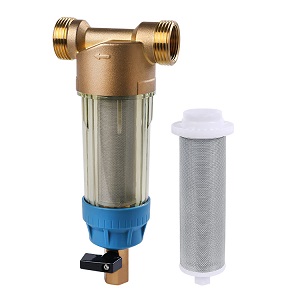 Water Softener
If the domestic water quality is too hard, it will cause the boiling water to have white scale, the skin pores will become larger, and it will take time and detergent to wash the clothes...
The water softener can effectively remove the hardness ions in the water, prevent pipeline blockage and equipment damage caused by scaling, achieve the purpose of removing scale and softening water quality, making hair soft and fluffy, clothes soft and colored, and bathing and skin care cleaning is more thorough.
Direct Drinking Water Purifier
Viruses, hormones, pesticides, heavy metal residues and other harmful substances in tap water cannot be drunk directly, which poses a threat to human health.
The terminal direct drinking water purifier has multi-stage filtration and purification layer by layer to separate harmful substances in the water, and has the effect of direct drinking without waiting.
The terminal direct drinking machine is generally divided into RO reverse osmosis machine and ultrafiltration machine. The RO reverse osmosis machine can effectively filter heavy metals and bacteria. The ultrafiltration machine can protect the health of family drinking water while retaining the minerals in the water to enhance the taste.