The whole house water filter can meet your personal needs, high space utilization, and use of water in different quality and scenes.
1. What is a whole house water filter?
The whole house water filter refers to the scientific combination of products with different filtration and purification functions, so as to achieve different quality solutions according to different water use and drinking water scenarios and needs of the owner's entire house.
The complete whole-house water filter can provide users with front-end microfiltration water purification, bath softened water and direct drinking water for restaurants and kitchens, as well as water with additional functions such as heating and cooling.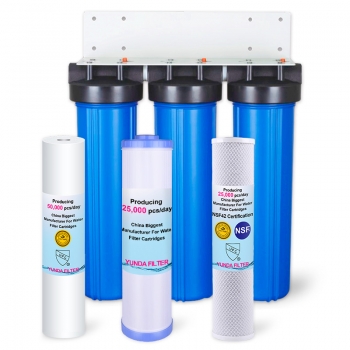 2. Your non-professional misunderstanding
a. Our domestic water is mainly tap water. The tap water has been purified by the water plant, and the factory has reached the standard of direct drinking. There is no need for the whole house water filter equipment.
This is wrong. Both toilet flushing and kitchen and drinking water are standard. Can you say that tap water can be drunk directly?
b. The awareness of the whole house water filter is still not high in the minds of consumers. I do n't know much about its role and technical characteristics. Sorry.
Many families have accepted the view of whole house water purification. Regardless of whether the decoration company or individual water and electrician will also locate and lay out pipes for the whole house water purification in the user decoration planning. In addition, the overall price of the whole house water filter is not high.