In order for your family to drink safe and healthy water, you will install a household water purifier. But there are many types of household water filters. Do you know which one is right for you? Ultrafiltration(UF) systems and ro systems are common household water purifiers. This article will tell you which water purifier is right for you.
UF System
In general, the UF system has a 4-stage water filter cartridge:
PP Filter Cartridge: It can remove precipitates such as stones and rust from water.
Granular Activated Carbon Filter Cartridge: removes chlorine, pigment, odor and other substances in water.
Activated Carbon Block Filter Cartridge: secondary adsorption of harmful substances such as odor and residual chlorine in water;
UF Membrane: The filtration precision is 0.01 micron, which can filter out harmful substances such as rust, colloid, suspended matter and bacteria in the water.
Advantages and Disadvantages of UF System
Advantages: Large amount of water, no waste water, no electricity consumption;
Disadvantages: Purification is not enough, it is not recommended to drink directly;
Application: Mainly used in the kitchen, the water can clean fruits, vegetables, rice and so on.
RO System
Ro System includes pp, granular activated carbon filter cartridge, activated carbon block filter cartridge, ro membrane, and post-activated carbon filter cartridge.
RO Membrane: The filtration precision is 0.0001 micron. It is the finest membrane separation product at present, which can effectively remove all dissolved salts and various organic substances.
Post-activated Carbon Filter Cartridge: Improves the taste and increases the content of negative oxygen ions in the water.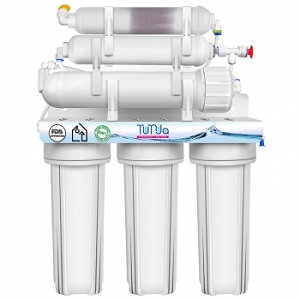 Advantages and Disadvantages of RO System
Advantages: The water quality is good and can be drunk directly;
Disadvantages: The amount of water is small, there is wastewater, and it needs to be energized;
Application: Drinking water directly from the family.
You can leave a message on the website to order water filter for your home.