The Reverse Osmosis System is a valuable investment for you and your family to enjoy healthy, great tasting purified water on tap in your own home. Not only is the RO system one of the most advanced and effective household water purification methods available, but the system doesn't need any electricity to operate.
HOW DOES REVERSE OSMOSIS WATER PURIFICATION WORK?
Firstly, the reverse osmosis system filters the water through a carbon cartridge removing chlorine and sediment.
Next is the purification stage where the water is pushed through a fine membrane designed to remove almost all contaminants, including Lead, Totally Dissolved Solids such as fluoride, recycled sewage water and more.
Finally, water then flows through another carbon cartridge to polish the water before consumption, reducing 97% of all contaminants in your tap water.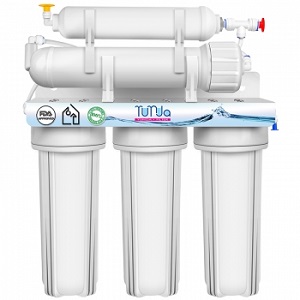 Which contaminants does a Reverse Osmosis System filter out?
FLUORIDE 93.6%
ARSENIC 98.6%
HEXAVALENT CHROMIUM 98.3%
TRIVALENT CHROMIUM 99.3%
BARIUM 97%
SELENIUM 97.8%
TOTALLY DISSOLVED SOLIDS REDUCTION 92.8%
CADMIUM 98.5%
COPPER 98.7%
CYSTS 100%
TURBIDITY 99.9%
NITRATE 86%
NITRITE 87%
LEAD 98.5%
You need to replace the reverse osmosis system filter regularly.
Easy to maintain and economical, the RO requires cartridge replacement every 6-12 months depending on water quality.
Why do Many People Prefer to Install The Reverse Osmosis System?
Many people are passionate about reducing Fluoride and Chlorine from their drinking water, but it can be hard to do that without wasting a huge quantity of water.
The Yunda RO System is your solution to both!
✓ Removes 93.6%+ of Fluoride & Chlorine
✓ Reduces your waste water by up to 300%
Many Reverse Osmosis systems can produce up to 75% wastewater. Not our Yunda RO System!
✓ Easy Servicing
✓ Reduce Waste
✓ Higher Performance
✓ Save money on water bills
Commonly asked questions:
Why are Reverse Osmosis systems popular?
Reverse Osmosis System is the ultimate in water filtration. This superior purifying process provides the highest quality water.
Where is the RO unit stored?
The Reverse Osmosis system is typically stored neatly under the sink, however, we do provide portable non-plumbed bench top options.
Is a Reverse Osmosis system worth the investment?
Yes. By purchasing an RO system, you are making an economical and conscious decision for the future of your health and longevity.
Are Reverse Osmosis Systems noisy?
No, the system is not noisy, rather it does have a slight sound which can be heard when the water is being processed.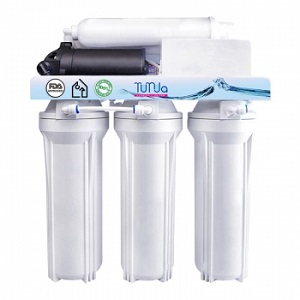 What are the health risks of the Reverse Osmosis?
The RO process strips away minerals such as calcium and magnesium from the water, which is why it's important to replace the nutrients with a healthy diet. The Reverse Osmosis system is a reliable source of clean water which can also be accompanied with an Alkaline Add-On Cartridge.
How long will a Reverse Osmosis system last?
Our Reverse Osmosis system is made of the highest quality parts and fittings for minimal future maintenance.
The housing and certain parts are recommended to be replaced every 8 years.
The filters should be replaced every 12 months depending on your water quality and use.
The Membrane replacement is periodically depending on water quality and use (average 3-5 years replacement frequency).
Is Reverse Osmosis bad for the environment?
Firstly, the RO will prevent you from purchasing plastic water bottles which are hazardous to the environment. Secondly, they don't require electricity to run. Thirdly, Some Reverse Osmosis systems can waste up to two-thirds of your water consumption, however with our Yunda RO System 50, you will experience up to 300% improved water efficiency.
What are the health benefits of the Reverse Osmosis?
General tap water contains Volatile Organic Chemicals (VOCs) such as pesticides and herbicides, heavy metals, endocrine disrupting chemicals such as fluoride, as well as hormones and cysts.
Using a Reverse Osmosis will reduce all of these contaminants significantly, protecting your body from absorbing them and instead vitalising your body.
What does Pure Water Systems offer?
✓3-year parts and labour warranty
✓Pure Quality Guarantee
✓Economical alternative for healthy, great tasting water
✓Fully portable or can be plumbed directly underneath the sink
✓Superior performance specifically designed for Australian Water
✓The latest in reverse osmosis membrane technology
✓Highest quality parts and fittings for greater peace of mind