1. PP water filter cartridge
Pre-treat the tap water to filter out the sediment, suspended solids, colloids, impurities, etc. in the water, the filter area is large and the dirt holding capacity is large, the filtering effect is good, the service life is long, and it can be cleaned and used repeatedly.

2. UDF water filter cartridge
Absorb odor, sunk color, residual chlorine, halogenated hydrocarbons and organic substances in water, which are harmful to human body. KDF can remove more than 90% of residual chlorine, greatly extending the life of activated carbon.
3. CTO water filter cartridge
Absorb deep-water odors, halogenated hydrocarbons and organic substances and other harmful substances, effectively improve the taste of the water. The long-life compressed activated carbon and high dirt-retaining mesh structure make the filter element have dual-function filtration performance.
4. RO reverse osmosis membrane
The pore size of the reverse osmosis membrane is only 0.0001 micrometers, a bacterium must be reduced by four thousand times, and the source of infectious diseases must be reduced by more than 200 times to pass, so all fine and impure impurities \ soluble solids \ bacteria \ and viruses in the water cannot penetrate too high Precision reverse osmosis membrane: Separates water from other impurities and contaminants, harmful substances are automatically discharged from concentrated water, and pure water enters the pressure tank for standby.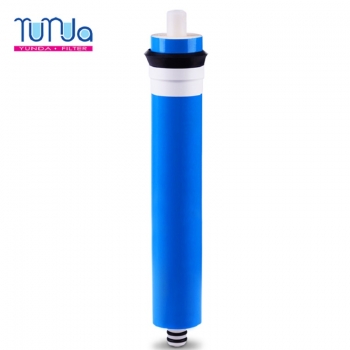 5. Post activated carbon water filter cartridge
It further removes odors, residual chlorine and bacteriostasis, prevents secondary pollution of purified water, and makes drinking water healthier and safer. Activated carbon filtration, according to the adsorption characteristics of activated carbon, activated carbon is mainly used to remove contaminants in water, decolorization, filtration and purification of liquids, gases, but also for air purification, waste gas recovery (such as the recovery of gas benzene in the chemical industry) 1. Recovery and refining of precious metals (such as the absorption of gold). Activated carbon is mainly made of substances with high carbon content, such as wood, coal, husks, bones, petroleum residues, etc. The coconut shell is the most commonly used raw material. Under the same conditions, the active quality and other characteristics of coconut shell activity are the best, because it has the largest specific surface. Activated carbon is a kind of multi-pore carbonized material with extremely rich pore structure and good adsorption characteristics. Its adsorption effect is formed by physical and chemical attraction, and its appearance is black. In addition to the main carbon, its composition also contains a small amount of hydrogen, nitrogen, and oxygen. Its structure looks like a hexagon. Due to the irregular hexagonal structure, it is determined that it has a large amount of surface and high surface area. Features, each gram of activated carbon has a specific surface equivalent to as much as 1,000 square meters.