Tap water cannot be drunk directly, unless you install an RO system. Are you still using an 80GPD RO system with barrels? This article will recommend 600GPD high flow RO system for you, it will be a more wise choice for your family.
600GPD high flow RO system - tankless design
The traditional RO system will match a pressure bucket due to its slower flow rate; even if you do not use water, the RO system will work normally until the pressure bucket is full. There will be many problems. The existence of the barrel will take up more space under the stage that you are not big. In addition, water stored in a pressure tank will undoubtedly breed bacteria, which will bring you a hidden danger to drinking water. Our RO system uses 600GPD membrane, so you don't have to worry about the slow water flow. It only takes a few seconds to fill a glass of water.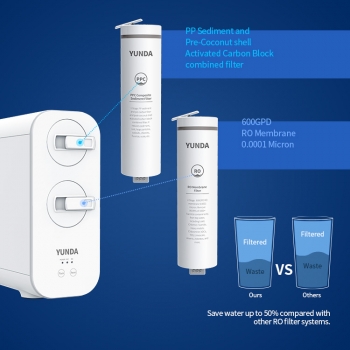 600GPD high flow RO system -- smart design
You don't know how to replace the filter cartridges, and the sales staff will tell you that you need to replace them regularly. Maybe 6 months, maybe 2 years. This is undoubtedly a bad thing. Our RO system will remind you to replace the filter elements if they really need to be replaced. You will see a screen on the faucet. When a red light comes on, you need to replace the water filter element immediately. In addition, the TDS value will be displayed on the screen, which will make it easy for you to find out whether your RO system is really working.
600GPD high flow RO system - simple installation
When you open the package and see so many parts, you will be very distressed; because even if there are instructions, you still have no way to start. The installation of our new 600GPD high flow RO system is very simple. The red, white, and blue lines on the RO system will let you know immediately how to install waste water, pure water and tap water lines.
You need to install a better RO system, 600GPD high flow RO system will be a better choice for you.